Ensuring Pet Safety: National Disaster Preparedness Month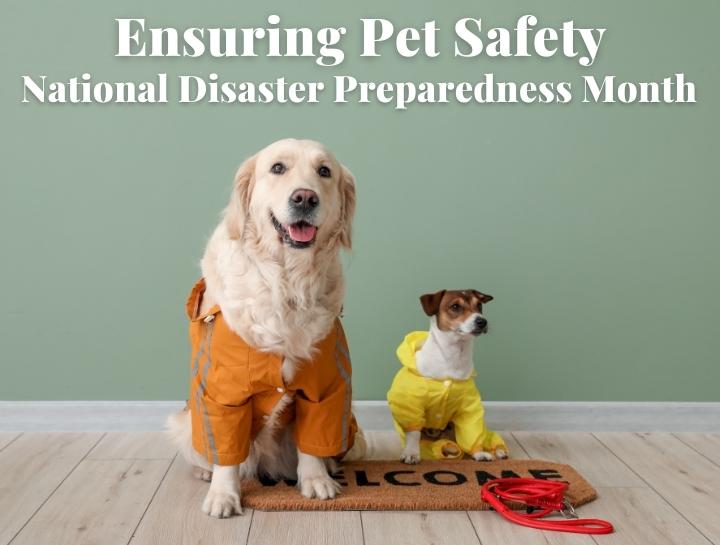 September 6, 2023
Ensuring Pet Safety: National Disaster Preparedness Month at Finger Lakes Animal Hospital

As we commemorate National Disaster Preparedness Month, our focus extends beyond human safety to the well-being of our four-legged companions. At Finger Lakes Animal Hospital, we recognize the importance of proactive planning to safeguard the lives of our beloved pets during times of crisis. From natural disasters to unforeseen emergencies, having a comprehensive disaster preparedness plan can make all the difference in ensuring the safety and health of our furry family members.
Understanding the Importance:
Disasters like hurricanes, earthquakes, and floods can catch us off guard, leaving our pets vulnerable. In such situations, your pet might become stressed, lost, or even injured. By being prepared, you're not only helping your pet but also taking pressure off emergency services and shelters.
Creating a Pet Emergency Kit:
Much like you have an emergency kit, your pet needs one too. This kit should include:
Medical Supplies: Gather your pet's medications, first aid items, bandages, and disinfectants to handle minor injuries.
Food and Water: Pack non-perishable pet food, fresh water, and bowls to keep your pet nourished during the crisis.
Identification and Records: Keep copies of vaccination records, medical history, and a recent photo of your pet in case they get lost.
Comfort Items: Familiar toys, blankets, and bedding can comfort your pet in stressful situations.
Leash and Carrier: Sturdy leashes and carriers are essential for safe transportation, especially in chaotic times.
Microchipping and ID Tags: Ensure your pet has proper identification. Microchipping is a great way to make sure you can find them if they become lost. Regularly updated ID tags with your current contact information are equally important.
Emergency Evacuation Plans: Plan ahead with your pet in mind. Know where pet-friendly evacuation shelters are located, arrange transportation for both you and your pet, and make sure your family is aware of the plan.
National Disaster Preparedness Month is a call to action for us as pet owners. By taking the time to prepare for emergencies, you're showing your commitment to your pet's safety and well-being. Your furry friend relies on you, and your readiness can make all the difference in ensuring their security during challenging times. Remember, a little preparation today can lead to a safer and brighter future for your pet tomorrow.
If you have any questions on how to stay prepared or would like to make an appointment to microchip your pet, call us at (585) 394-2288 today!